Double bass bows for professionals
Zdzislaw Prochownik
1050 The Queensway Etobicoke ON
Canada M8Z 0A8 tel. 416 253 4433 email; prochownik@outlook.com or prochownik@hotmail.com

Please type this address into your email as I have removed the mailto link to avoid SPAM.

As a result of an increased problem with customs regarding the control of imports and exports of wildlife products (such as pearl slides and exotic leather), I have decided to eliminate wildlife products from my bows and substitute them with product such a commercially use leather, abalone imitation, sterling silver and cow bone. (see picture)
Dear Potential Customer:
For the last twenty five years I have earned my living as a professional bassist on the first stand of three major Canadian orchestras. Always fascinated with the properties of a good bow, I began to experiment with various styles and was in touch with the bow making industry at large. Encouraged by numerous successes at bow making as a hobby, my interest intensified in 1991 as a result of my study with Jean Grunberger in France.
My bows are somewhat different than those commonly seen on the market. When making a bow, I concentrate on focus: a direct, clean, penetrating sound, with a very quick response in mind. For players who are used to more heavy bows, this may feel strange at first, but after a short adjustment period it can be seen that heavier bows generally do not have the sensitivity and immediate response that lighter bows do. Why fight velocity, gravity, and risk hand injury when you can achieve more with less effort?
All of my bows have a big arch and are very flexible in character. Designed to be pulled horizontally with minimal pressure, they require a smaller than usual tightening distance between the stick and hair. Each bow uses wood carefully selected from the best Pernambuco available, and are tested with ultrasound waves for strength and flexibility. Keeping functionality in mind as the first , most important requirements, bows are silver mounted and individually balanced for maximum results, each of them providing excellent string contact as well as clarity in "off string" playing. All French style bows come with a thumb rubber to aid in comfort.
When testing my bows, I recommend comparing them with others by playing a variety of difficult passages, as well as listening to comparisons, if possible, from a suitable distance. I use only the finest quality Canadian white horse hair which I find offers the best grip. All bows are tested under professional symphony orchestra conditions prior to shipment.
At this time I do make 3 kind of French model bows:
Solo - hair length of about 55 cm , more bend and a little stiffer piece of wood, very rigid, nervous, bright and extremely responsive and weight between 125 and 130 grams . Hair and the bow feel very stiff. Usually excellent for solo or fast Mozart passages etc. plying. Sound is rather lean.
General-use - hair length of about 55 cm, less bend and hair a little more loose which gets you a little more air in the sound and a feel of bigger sound but somewhat loose at extreme and of response and quickness. Bows weights are between: 125g - 135g
Sartory - -They are 3/4 inch shorter and have more distance between hair and stick. My friends call them "Sartory with a attitude" They are kindlier and gentler and weight around 125-130 grams

The French bows - similar to Sartory and Vigneron models (135 -150 grams) made from Massaranduba wood.
All 4 French models are good but it depends on the style you play. I prefer to first consult my customer before beginning work on his /her order. All German models bows have a hair length of about 55 cm and weight between 115 and 130 grams
Price: Please call or email me!
All bows are guaranteed to outperform your existing bow or your money fully refunded.
These bows are presently being used in many major symphony orchestras in North America, Europe, Australia, Brazil and Tasmania, as well as with many graduate students of Paul Ellison, Francois Rabbath and many other recognized teachers.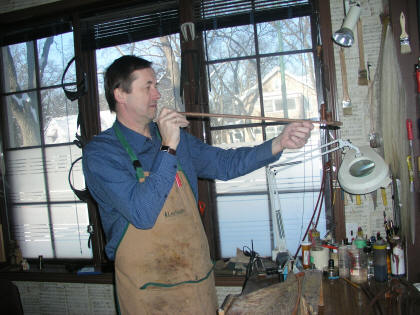 Various Testimonials:




"PHANTASTISCH!" - Ludwig Streicher 1994
"BRAVO! " - Francois Rabbath 1995
"I enjoy using your bow very much. Sixteenth-note passages seem easier to play with more clarity of pitch and articulation." - Clifford Spohr, Principal Bass, Dallas Symphony Orchestra 1993
"Bows which do all tricks." - George Vance, Washington
"Z. Prochownik understands bass and the bass bow. I've played at least fifteen of his bows, both German and French models, and many of them are as good as anything I've played on. He understands balance and tension in the stick and how to fine tune an individual piece of wood. He reworked my award-winning Nuedorfer and actually improved its performance. My other bow is a Prochownik." - Eric Hansen, Principal Bass, Winnipeg Symphony Orchestra 1994
"My other bow is a Sartory." - Stan Label, Assistant Principal Bass, Winnipeg Symphony Orchestra 1993
"Your bows are the best new bows I've tried." - Betty Girko, Dallas Symphony Orchestra 1994
"Thank you for your incredible craftsmanship and most amazing German bow I have ever played." - David Moore, Los Angeles, CA 1993
"The bow is beautifully made and I really enjoy playing with it." - Angela Schefield, London, England 1990
"The bow is well made from an excellent piece of wood, draws a fine sound, and has a very good response and balance." - Jan Urke, Principal Bass, Edmonton Symphony Orchestra 1991
"I can't tell you how much I enjoy playing with your bow."- Jeff Hall, Dallas, TX 1995
"Thank you for the wonderful bow." - E. Browning, Perth, Australia 1995
"I like the bow and I am looking forward to getting another." - Thomas Lederer, Co-principal, Dallas Symphony Orchestra 1995
"It suits my playing and is a fun alternative to my Grunberger and Victor Fétique!" - Jean Michon, Québec Symphony Orchestra, double bass teacher at Conservatoire de musique de Québec 1996
"Good loud and full sound! Every note is easy to play, spiccato is perfect." - Barbe Thierry, solo bassist, Opéra Bastille, Paris 1996

"The Prochownik bows which I use, and won a position in the Wiener Philharmoniker with, allow me the most detailed articulations, while guaranteeing a full sound and precise string contact in the most delicate musical moments. They are equally excellent in the large repertoire of the Weiner Philharmoniker from Donizetti to Berg." Bartosz Sikorski-2001

"I purchased a bow from you about two years ago. I am extremely pleased with it and everyone who tries it out thinks it is incredible". Bill Bentgen Cross Junction, Virginia 2001

"The bow is fantastic." Enzo Figliuzzi , Vancouver 2002

"The tone that the three bows produced on my bass was amazing. The 126 brought the low tones out of my bass and did not over highlight the highs. It all also sounded good in orchestra as well as solo playing. I am very happy with it". A.J. Topp, Tampa FL 2002<![if !supportEmptyParas]>

<![endif]> "I am really happy to inform you that after 4 years looking for a bow, I have finally found it! I really like the bows you sent me, specially one of them, so I'm buying it." Jose A. Luque Osuna Spain 2003

" I still can't believe the tone it gets out of my bass. It's like I went out and bought a whole new bass!" Matt Stromberg Kearney NE USA 2004

"It has transformed my playing and I'm so happy with it, it's perfect for both solo and orchestral playing! Best wishes and many thanks, Nicki Davenport" UK 2004

"With my bass, your bow sounds wonderfully clear, I love the way it draws over the string, it feels amazing from tip to frog, it bounces incredibly and has a wonderful punch to it and the list goes on." Jordan O'Connor Toronto 2007"

"The Sartory is simply a pleasure to work with, playing with it is practically effortless! My bass has never sounded better! I will definitely be recommending your bows to my friends!" Patrick A. Montreal 2007

"Hi ! I'm still in the National Symphony here in Dublin, very pleased with the bow I purchased 2 years ago".. Edward Tapceanu 2007

"I really love it and it fits well in the hand and gets a great tone from both my basses! Thanks - it's really a great piece of craftsmanship." L. Fantasia L.A USA 2008

"I currently use a "master" old French bow and to be very honest and serious your bows sound better and are easier to play" Calvin Marks. Toronto 2008

"The bow I like most is one of the most responsive and articulate bows I have ever played - bravo" - David Odegaard Texas 2008

"As I thought, the bows are wonderful, the light one it's incredible precise and the 124-126 grams full of harmonics, all of them suitable for every piece, from solo to orchestra playing. Thank you very much for your excellent art." il primo contrabbasso della "Orquesta Sinfónica de Galicia" Spain -2009.

"I did a couple of Messiahs last week, and, apart from the aching back, enjoyed them thoroughly. Your bow worked marvelously, so much control, spiccato, even at the tip, the bow felt really long, which meant to me that it is much more usable at the tip. My long tones felt longer, everything is great. People even are commenting on the different sound. This is the sound as opposed to the Sartory I have been using for 38 years. Thank you so much for the beautiful hand made bow". Jack McFadden, Ontario, Canada 2009

" I gotta tell you, I immediately loved the bow. It's made from beautiful wood and is much lighter than my present bow (153g). From behind my bass, I thought it was quieter than my other bow. But, after my last orchestra rehearsal, our principal cellist came back and asked me if I was playing a new bass, because I sounded so much better. I told him I was auditioning a new bow an he stood out front and had me switch back and forth between the 126g Purpleheart bow and my old one. Out front, your bow projected much more, was louder, had more harmonic content, sounded fuller, and made my other bow sound "nasal" in comparison. I am quickly getting used to the lighter bow, and feel like I can play longer without fatigue, and that I can play challenging passages easier (I'm currently working on Beethoven's 9th)." Russell Bergum Virginia, MN 2010

"I love the bow. It is a joy to play and exactly what I was looking for. Multiple people said if I didn't buy they would " Steven Fox Columbus OH. 2012

"A professional and accomplished colleague joined me to listen and play on bows. There were 6 bows in the mix- widely varied in size and shape. The Prochownik bow drew a sound similar in power and inflection to a bow that weighed 10 grams more- the biggest bow we had in the mix. As I was playing the Prochownik bow, my colleague described it as "Effortless!" Of all the bows I demonstrated, the Prochownik bow- and only the Prochownik- sounded effortless to the listener. I am sure that the reason he heard it as such is because the bow plays that way: of all the bows I have tried in my time, this Prochownik bow best allows me to draw a lovely sound with the least effort. It projects very well, too! Incidentally, my colleague said later that day, "If you don't buy that bow, I will." Eric Seay College Park MD 2012

"So the bow is great, i'm getting used to it very fast. The sound in the upper register is what I needed, clear and with a lot of projection… it's very comfortable and with a fast response.

I'm, very happy with the bow, congratulations on your work! " Alvaro Rosso Lisbon Portugal 2019

Bassist saying goodbye to WSO

By: Steph Crosier

Posted: 03/4/2014

http://www.winnipegfreepress.com/our-communities/souwester/Bassist-saying-goodbye-to-WSO-248377751.html?device=mobile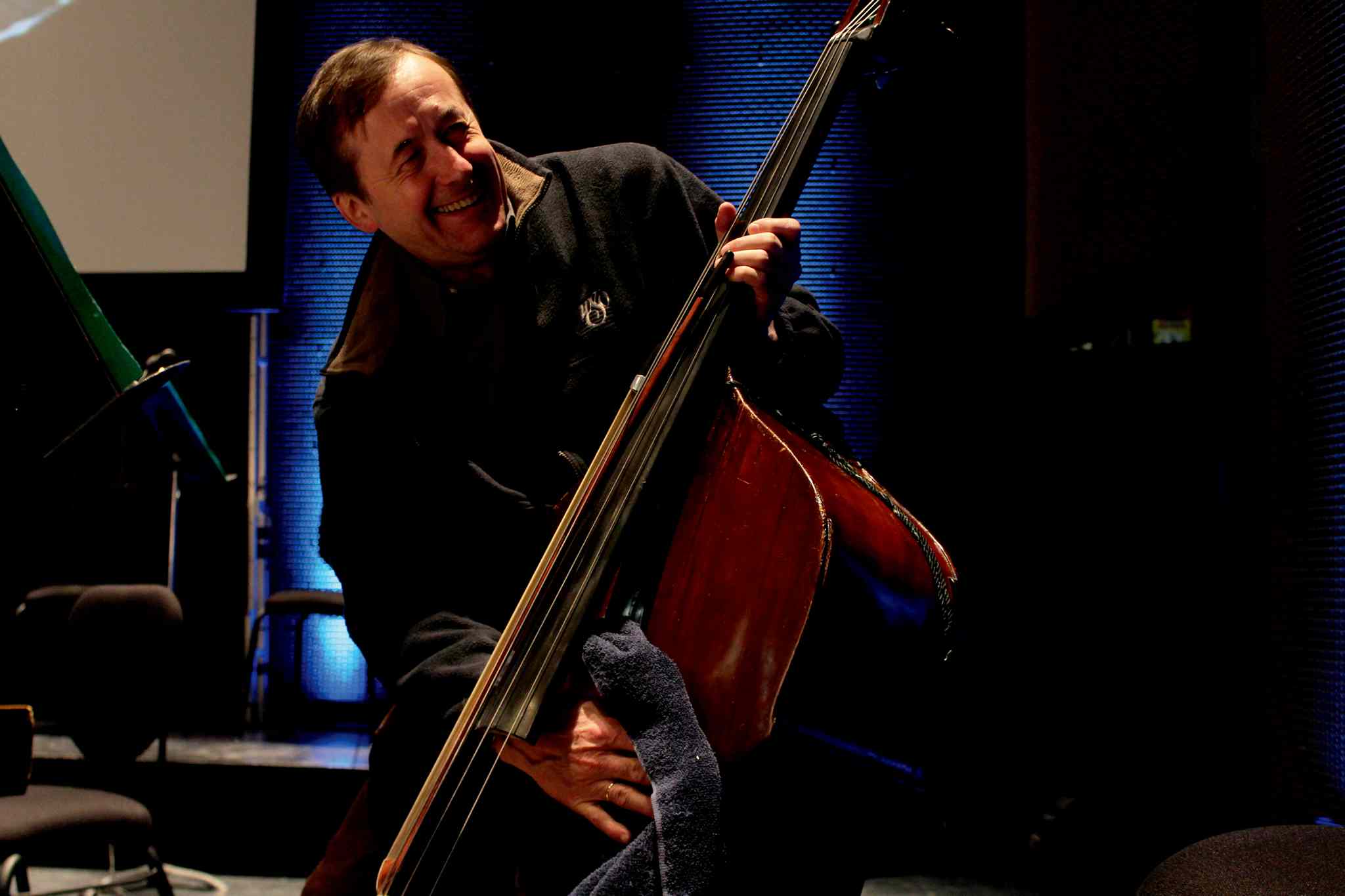 When a Polish music academy told Zdzislaw Prochownik not to come back, it was Poland's loss and Canada's gain.
Prochownik is a bassist for the Winnipeg Symphony Orchestra who will be retiring after this season. He grew up in his home country with a natural ability to read and play music.
"I went to a normal elementary school but they noticed that music came very easily to me," he said.
"My father bought a toy accordion when I was six years old," said Prochownik, a River Heights resident. "Within three days I was able to repeat every song I could hear."
Prochownik used the accordion to his advantage into his teens, playing at small parties and weddings. It was when he attended a specialized music high school at 14 that he was introduced to the bass, because the school didn't have any accordions.
"I was tall so they told me to pick the bass," Prochownik said. "I asked 'How does it look?' and they said 'Don't worry, you'll like it.' So I stopped playing the accordion and focused on the bass."
'Either you've got talent, and enough talent, and on top of it you've got to put in a lot of work, because it's not enough to have just talent.' -- Zdzislaw Prochownik
After graduating high school, Prochownik recalled many of his peers went into other careers, such as teaching and acting. One even became a priest. He applied to what is now known as The Fryderyk Chopin University of Music to follow his dream of becoming a professional musician.
"I followed the music because it was fairly easy for me," Prochownik said. "Either you've got talent, and enough talent, and on top of it you've got to put in a lot of work, because it's not enough to have just talent."
Prochownik recalls the music and arts scene thriving in Warsaw in the early '70s, with the city boasting five different orchestras.
"In those days life was a lot easier for someone like me," Prochownik said. "I was able to make very good money very quickly as a studio musician and in groups. I could make an excellent living just being a student."
Everything changed when he was 21 and visited his older sister in Montreal while in his third year at the academy.
"By accident I was introduced to McGill music school and I was offered a small scholarship and a chance to study for a full year," Prochownik said. "When I asked for a one-year sabbatical from the music academy to be able to study here, I was kicked out of school. Just for asking and not asking for permission from the academy.
"I was very clear that I wanted to come back after one year," Prochownik added. "But they immediately kicked me out."
Prochownik stayed in Montreal and attended McGill University's Schulich School of Music. When he received his Canadian citizenship, he gave up his Polish one the next day.
While at school in Montreal, Prochownik made money roofing, working in factories, and taking other jobs to survive. Before his last exam, Prochownik drove all night from Montreal to Toronto to audition for the Edmonton Symphony Orchestra. He got the job as a principal bassist but only stayed in the western city for one year because he got another job in
Montreal, closer to his sister.
After three years with the Montreal Symphony Orchestra Prochownik was let go. He found himself, at 28 years old, married and out of work for almost a year. Lightning struck in 1983 when the Winnipeg Symphony Orchestra had an opening for a principal bassist.
"So I came and got it," Prochownik said. "In three weeks everything changed, I got the job, my son was born, I moved, and I bought a house here. Everything happened in three weeks but like bang, bang, bang, bang, and that's that."
Now 60, Prochownik will retire at the end of this season and hopes to become a snowbird in Florida. In his spare time, he repairs and creates custom double bass bows and sails on Lake Winnipeg. Healso works with the Polish community in Winnipeg promoting their culture. For his efforts, he was given his Polish citizenship back.
He said the most memorable part of being in the WSO has been the high quality of music and the people.
"The best music ever written and performed in very high quality," Prochownik said. "There's not many professions where you can work with young people. Sixty-year-olds with 25 year olds on the same and equal basis, you can't make a fool of yourself and talk about aches and pains. You have to get your iPhone and be on Facebook and at least just keep up, it keeps you young."
Copyright © 2019 Zdzislaw Prochownik.